With the increasing reliance on financial technology (often shortened to fintech), traditional banks are no longer the only option for opening a bank account, instead, thanks to the developments in fintech, people now can open bank account with a neobank. There are two types of neobank and they can be classified into (i) companies that applied for their own banking license (i.e. virtual banks), and (ii) companies that partnered with a traditional bank to provide those banking services (i.e. usually fintech providers providing alternative banking solutions). Currently, Hong Kong has 8 virtual banks and a number of fintech providers that provide alternative banking solutions.
Below table summarises (however this summary list is not exhaustive) the pros and cons of traditional banks, virtual banks and fintech providers when opening a corporate bank account: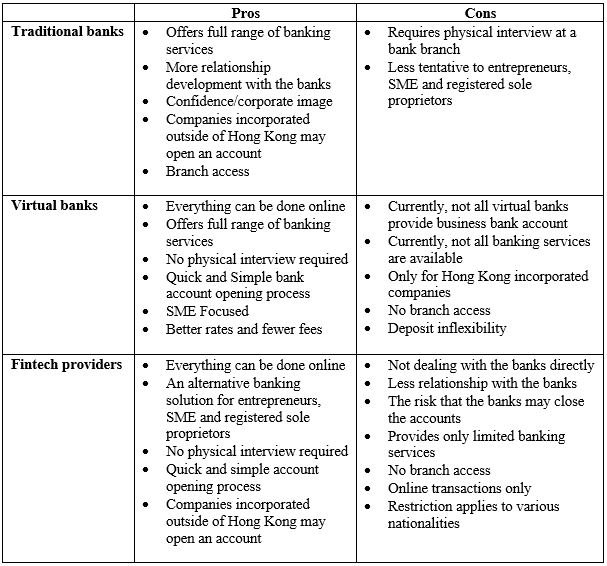 However, when considering the right banking solutions, it is also important to consider other factors such as commerciality and practicality as well as the pros and cons for each of the solutions. Also, please be aware that for tax substance purposes, traditional banking accounts might be more suitable than neobanks.
If you need assistance with choosing the right banking solution, please do not hesitate to contact us.